Awareness Session on Gender Sensitivity and POSH Act conducted at Delhi Technological University by JAAGRUTI
In an effort to sensitize students, staff and Faculty, the Equal Opportunity Cell (EOC) of Delhi Technological University (DTU) in association with Department of Environmental Engineering, organized an awareness session on the important yet sensitive subject of "Gender Sensitivity and POSH Act".
The awareness session was conducted by Vasudha Mehta, an award-winning multi-passionate entrepreneur, Educator and Coach - in her capacity as the Chief Empowerment Officer of JAAGRUTI Educational Consulting LLP.
The informative and interactive 2-hour long session was attended by an engaged audience of close to 130 participants at the jam-packed Pragyan Hall, on 31st January 2023.
The Session was facilitated by Dr. Geeta Singh, Assistant Director, EOC-DTU and convened by Prof. Rachna Garg , Director, EOC-DTU, who agreed that, "Awareness on these subjects is a pre-requisite, because such incidents are rampant and victims are often, suppressed into silence ."
The audience feedback and string of curious questions at the end of the Session, affirmed the positive and enlightening impact of the session on them all!
Some of the feedback received from the participants, was as follows:
"Talking openly about taboo things requires a lot of courage, hence the overall agenda of this event was quite eye-opening ."
"Both the victim and the offender have the right to present themselves (under the POSH Act). I also learnt that in case of someone's inability to report, we can report on their behalf with their consent to do so."
"The content and way of explanation with practical examples helped a lot to understand the nuances of this sensitive topic. Taught me to remain alert at public places or crowd and made me aware regarding SHEBOX plus ICC regarding which I had no idea earlier."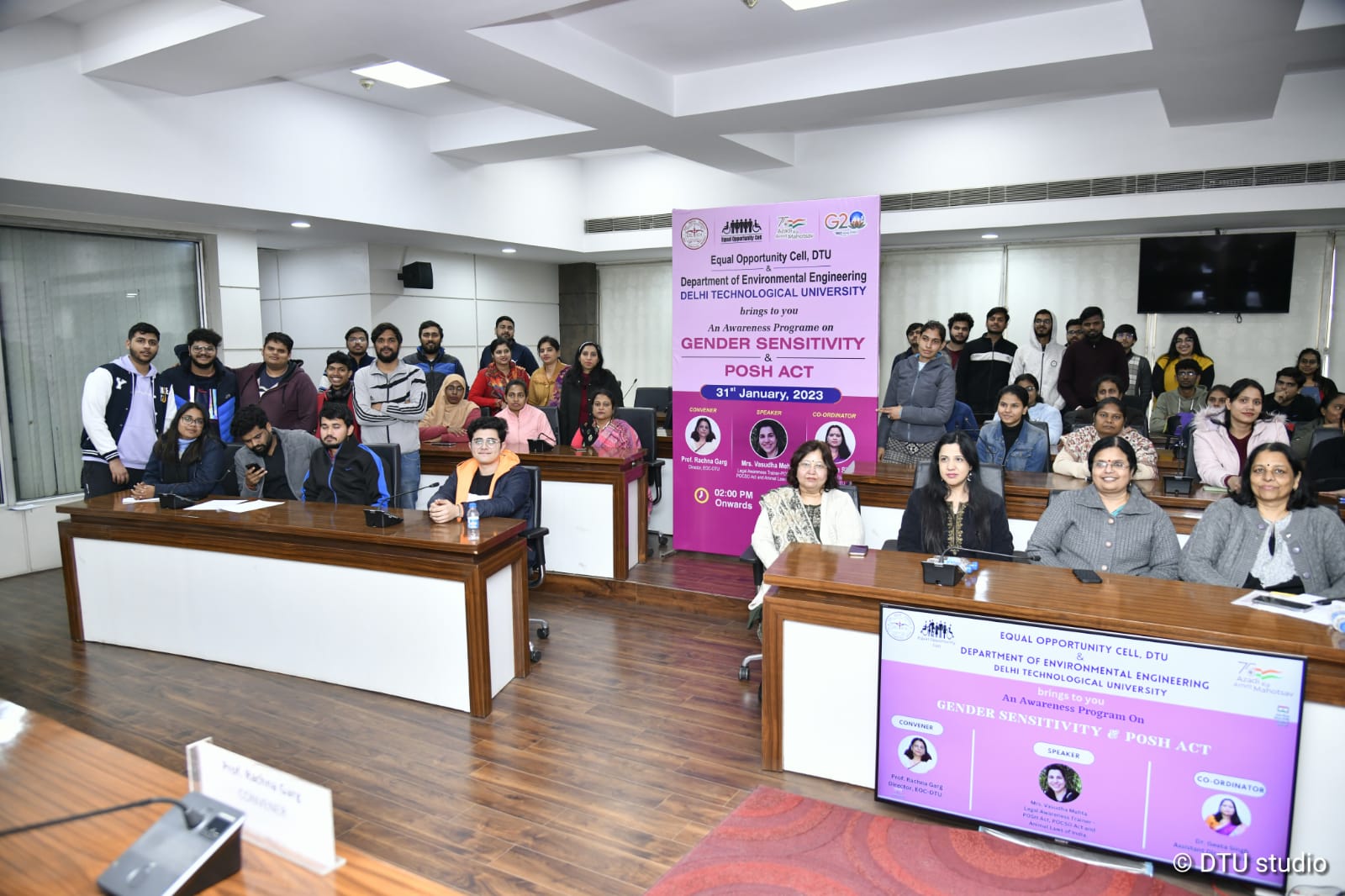 All, in all, an impactful session, with information that will empower those who attended it, for the rest of their lives!
* Such Awareness Sessions need to be conducted regularly across all establishments in India. These are mandatory compliances to adhere to under POSH Act, 2013. Please connect with Vasudha Mehta on +91-9958980909 or write to her at [email protected] to conduct such Awareness Sessions in your Institution or Company.